I have used and recommended Green Geeks for all my clients and as a reseller of WordPress hosting. Green Geeks offers terrific support, Solid State Drives, 300% wind power (credits), and super fast multi homed servers.
I have been hosting sites on Green Geeks for several years now, and I find them to be the fastest, and most reliable web hosting company I have found. They offer full cpanel and all options needed. They are on the expensive side, after the initial 3 year introductory rate of $3.95 – goes up to to 9.95 a month.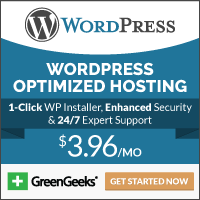 If you want to try a different less expensive  hosting company ($2.95 an month – no email ) have a look at Dream Host – they offer some of the lowest prices in the industry with great service, and an environmental friendly attitude.  Custom control, not cpanel but usable…  PCMag's "Editors' Choice" Winner 4 Years In a Row

Here is what they say…
Independently Owned
We believe in everyone's right to privacy, and we back that with a strong anti-spam policy and free WHOIS privacy.
Commitment to Security
Our many security features include Multi Factor Authentication, auto-enabled sFTP and free secure hosting with Let's Encrypt.
Embrace Open Source
We strongly believe in providing open source solutions to our customers whenever possible.
24/7 Support
Our in-house team members do their best to provide one-touch resolution, making you feel like a part of our family.
100% Uptime Guaranteed
We guarantee it so you don't have to worry about it.